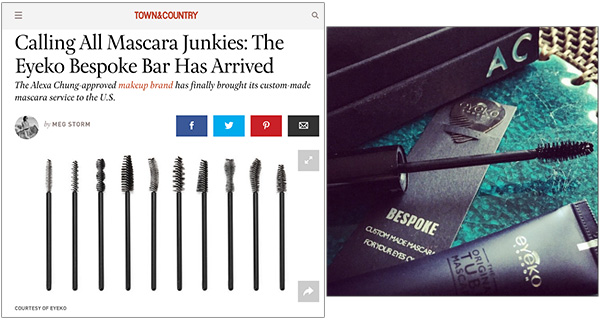 "The Alexa Chung-approved makeup brand has finally brought its custom-made mascara service to the U.S.
Despite the hundreds of options available, it can be hard to find one mascara that adequately lengthens, volumizes, and curls lashes, which is why many women (this writer included) apply three or more mascaras in one sitting. Eyeko, the British cosmetics line that's built around eyes and eyes alone, has come to the rescue with its bespoke service, which is has been exported from London to Saks Fifth Avenue's New York City flagship.
During a 15-minute appointment (walk-ins are welcome), women sit with a "mascara editor" for a lash analysis and consultation, at which point a brush and formula are chosen and a custom tube is created on the spot. Someone who wants megavolume and extreme length, for example, may end up with a long-wearing ultrablack formula to beef up lashes and a dual-sided brush for maximum extension. For a fringey, '70s look, a fluffy U-shaped wand can lift and separate lashes, while a fibrous formula adds length and volume. Each tube comes complete with a monogrammed box and a stainless steel lash comb.
"When it comes to mascara," Eyeko co-founder Nina Leykind says, "we know there is no such thing as one-size-fits-all."
Read the full article here.
Email bespokeUS@eyeko.com for Saks Fifth Avenue NYC appointments.