If the eyes are the window to the soul, the eyebrows are the frame of the face. While finding the perfect shape and style for you can be tricky, we've compiled eyebrow makeup resources on our blog that show you how to arch like a pro, groom your brows and use some of our best-selling products.  
If you haven't heard, we recently launched a line up of eyebrow makeup products to create a routine that is suited to your own eyebrow shape, style and desired look. Give your brows some love with our three NEW brow products to suit every style. Create your own routine for every style, shape and shade in our long-lasting, high-performance formulas. 
The new line up includes:
Brow Grooming Kit: 

Including all the eyebrow grooming essentials, this kit is housed in a reusable drawer box and comes with a carry pouch for on-the-go touch-ups. The perfect kit to ensure your eyebrows are in their best shape, this kit includes: brow spoolie & angled brush, scissors, tweezers and an eyebrow blade. 

 

Clear Brow Gel:

A nourishing, clear brow gel that sets brows in place for 24-hour wear, leaving you with a laminated brow look – without the need to visit a salon. An extension to our fan-favourite tinted Brow Gel, this clear version provides instant definition to lock your brows into place. 

 

Spotlight Highlighter Pencil: 

Use under the brow line and along the arch to give an illuminated, lifted look. Formulated with jojoba oil, this versatile highlighter can also be used in the inner corners of your eyes to brighten. Easy to blend, this highlighter won't budge for eight hours.

 
Excited about these new products but not sure how to get the look you want? We're here to help. We show you how to do both the laminated brow look and fluffy brows at home so you can find a style that works for you while being absolutely effortless to achieve.  
First, gather brow makeup essentials and ensure your brows are groomed to their desirable effect. Need tips? This blog post shares how to groom brows according to your natural shape. 
How to do the fluffy brow look in three steps: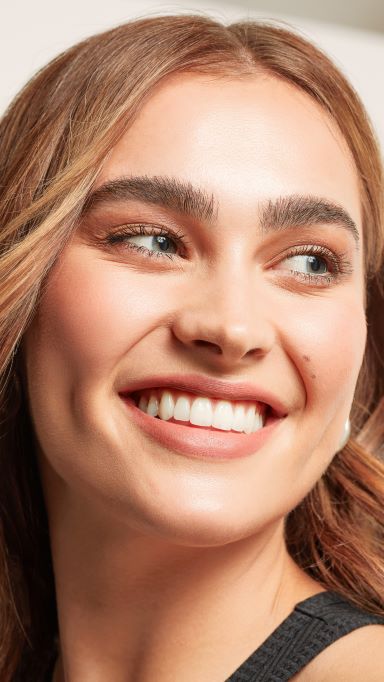 1. Get your Brow Grooming Kit and use the brow comb to groom brows, by combing upwards at the front and outwards at the middle to end of the brow.
2. Take the angled brush and rub it into the nib of the Define It Brow Pencil and fill in any gaps using single hair strokes. Use the comb again to soften the application of this product for a super natural look.
3. Using the Clear Brow Gel, comb through the brow in the first instance using backwards and forwards motions, and then ensure the hairs in the front and middle section are bushed upwards, and at the end of the brow, hairs are brushed at an angle which is almost horizontal, so you can see the individual hair strands.