With Christmas less than 50 days away, get presents friends will fall in love from Eyeko's Cosmic Christmas kits. Including our Mascara Trio and Black Magic Duo equipped with bestselling favourites, stock up on stocking fillers that sleigh this season.
Mascara Trio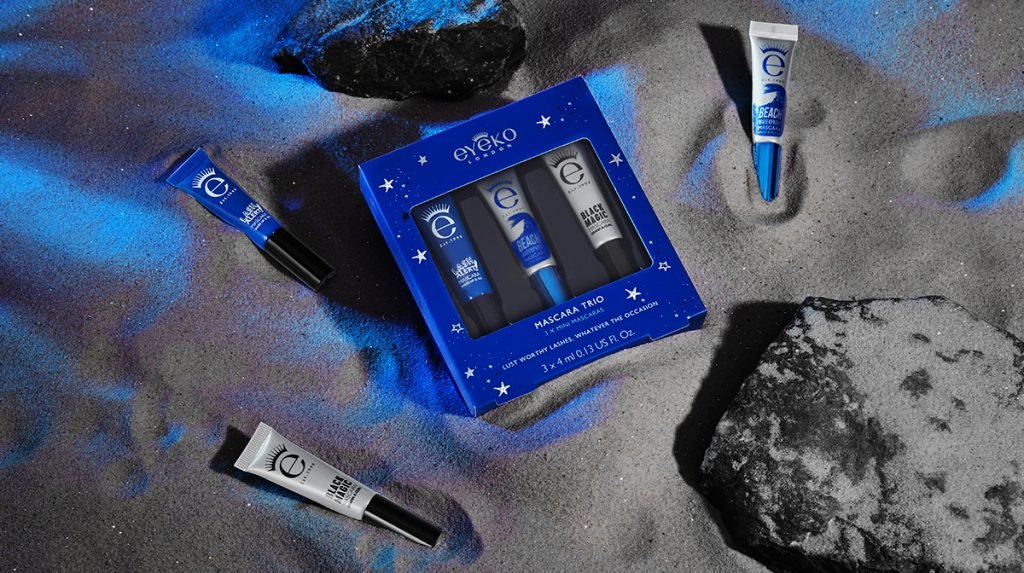 Containing our Beach Waterproof Mascara, Lash Alert Mascara and Black Magic Mascara, go mad for mascara this Christmas. Lash out with caffeine and coconut oil ingredients that give eyes the wake up call they need. Made with our zero-product waste squeezable tubes, threes not a crowd when it comes to our Mascara Trio. Ideal for secret Santa or small stocking gifts, make the most out of these cute travel-sized minis.
How to apply:
First, grab your favourite mini mascara depending on what curl you want to capture.
Start from your upper waterline moving your mascara brush to the tip of your lashes.
Repeat this process again capturing length until you're happy with the final results.
Do the same for your bottom lashes, starting from your waterline and moving your mascara brush downwards.
Finally, make sure both eyes match one another before popping the mascara back in it's zero-product waste squeezable tube.
Not sure which mascara to choose?
Lash Alert Mascara: Infused with caffeine and shea butter, give your peepers the wake up call they need! Perfect for girls on the go, our Lash Alert Mascara lifts the sleepiest of 'bed lashes' to give you a wide eyed look which lasts all day long.
Black Magic Mascara: The ultimate mascara for drama, volume and curl, Black Magic Mascara's carbon-black finish intensifies lashes like never before. Including a curvaceous brush that lifts lashes 90-degrees up, get your peepers in the party spirit with a mascara that stays on from dusk 'til dawn.
Beach Waterproof Mascara: Including coconut oil and fruit extracts, sweep up lashes for maximum coverage from beach to the bar! Combining an innovative brush which evokes wave ripples, our Beach Waterproof Mascara is designed to keep lash length whether you're in the water or wearing a party gown.