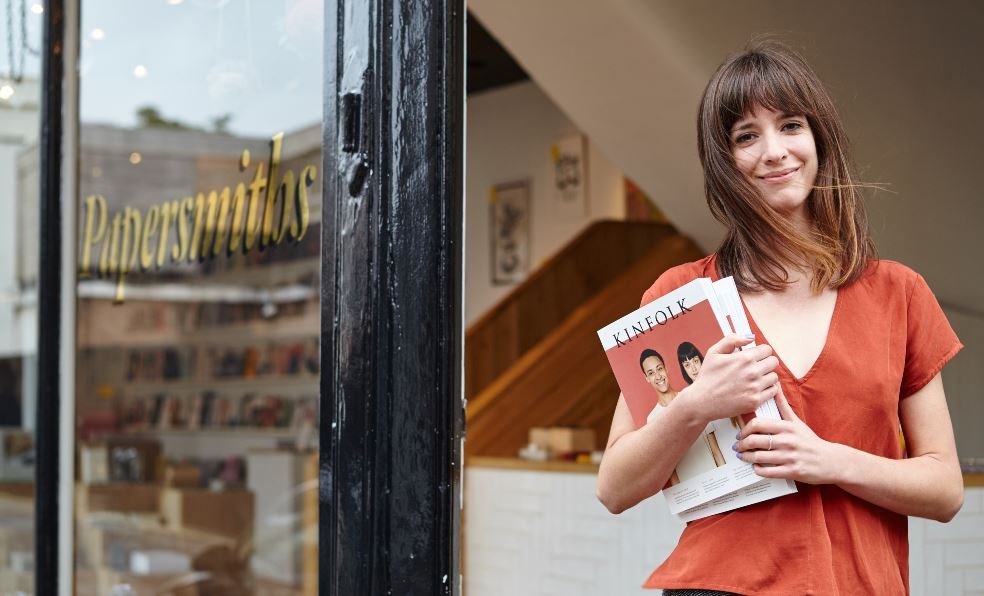 Last year, after launching our Limitless Lengthening Mascara, we started our female led series – In My Eyes, where we celebrated and explored what it meant as women to feel Limitless. We're continuing this series into 2023 with a variety of interviews, videos and articles on women that have a story to tell and a vision to share.  
MEET PAPERSMITHS, CO-FOUNDER SIDONIE WARREN  
Heading straight into the New Year, we wanted to start exploring and training our awe muscle, allowing us to find the little joys in every day. As a team, we discussed what those small things are that bring us moments of awe, and the topic of beautiful stationery came up. Specifically a daily planner from Papersmiths, that one of our team had been given for their birthday. Organising their day in such a lovely piece of stationery was bringing a little bit of happiness every morning. So, we looked into the brand, not only are they a female co-founded, but we discovered they are a true haven for notebooks, journals, planners, pens and books.  Their products aren't just functional. They are handpicked and sourced for their design, as well as their ability to help people be more creative, organised and mindful.  
We reached out to Papersmiths, to work together on a social collab, with the aim of wanting to inspire and motivate our followers to retrain the awe muscle. In the midst of everyday life, reconnecting with the things, places and people that allows us to feel awe-struck and awe inspired. Papersmiths was co-founded by Sidonie Warren, in 2013, by sourcing cult classics and unique stationery from designers and makers globally. While initially training and working as a primary school teacher, Sidonie continued to dabble in her passions, which were a mix of illustration, jewellery design, and selling vintage clothes. In 2011, she quit her teaching job to co-find a studio space called Studio B, and during this time, she saw an opportunity to utilise part of the studio as a retail unit. Channeling her love for notebooks and pens, Sidonie began sourcing products from designers and Papersmiths was born. To date Papersmiths not only has a thriving website but 3 stores in Chelsea, Kings Cross and Brighton.  
Inspired by her entrepreneurial spirit and her keen eye for design, we took a moment to talk to Sidonie for our In My Eyes series to find out which women have inspired her, when does she feel at her most limitless and of course, what's her go to eye look is.  
Eyeko: What does feeling or being limitless mean to you? 
Sidonie: Being capable of achieving my goals.  
Eyeko:  How have women played a role in helping you achieve your goals? 
Sidonie: I couldn't achieve my goals without the women around me. I've had the encouragement and support of friends, family and the women I work with at Papersmiths.  
Eyeko: Which women in your life have inspired you and how? 
Sidonie: My sisters and my best friends have been a huge inspiration in so many ways. They've followed their passions, sometimes down turbulent paths, and turned them into actual jobs. Author Amy Lavelle, Paynter founder Becky Okell, reiki practitioner Penny Dunn, surgeon Hannah Warren, songwriter Sarah de Warren, puppeteer Tessa Bide and creative director Heather Falconer. Dream girls!  
Eyeko: Best piece of advice you've ever received? 
Sidonie: It's okay to go slow. This has been particularly relevant for building the Papersmiths brand. I've realised I don't always have to be expanding or innovating. Some phases will be about gradual growth and maintaining what I've already created. 
Eyeko:  What do you do in moments of insecurity? 
Sidonie: I'll try and bring myself into the present. I do a little exercise where I take in my surroundings and name 5 things I can see, 4 things I can hear, 3 things I can touch, 2 things I can smell and 1 thing I can taste.  
Eyeko: What female cause in our community do you feel needs more awareness? 
Sidonie: Freedom4girls are doing fantastic work fighting period poverty here in the UK and further afield. 40% of girls in the UK have used toilet paper because they can't afford to buy sanitary products. 
Eyeko: When (if ever) have you had to take a leap of faith and what did that feel like? 
Sidonie: Designing and investing in the first Papersmiths notebook collection was a huge leap of faith. I'd delayed the design process for years and years because of a lack of time and confidence. A winter lockdown gave me some space to work on the first collection. I was terrified that nobody would buy one. Happily, the launch was a success and they're now our most popular notebooks. I feel proud to have validation from stationery aficionados.  
Eyeko: Describe a time when you felt your most powerful? 
Sidonie: When I'm sat on my turbo trainer tackling the final segment. The disco lights are on, my fan's blowing on my face and my favourite tunes are playing.  
 Eyeko:  How can women support other women? 
Sidonie: I like to support other women by being honest and open about the challenging times as well as cheerleading, encouraging and sharing successes. I try to listen and offer a space to share and process rather than jump in to solve problems or offer advice.  
Eyeko: What is your makeup routine? And how does makeup make you feel? 
Sidonie: I've recently had a baby and my self-care time is limited so it's 100% au naturel right now. I'll always start with skincare. I have a solid, water-free, twice-daily cleansing routine that's all about encouraging moisture because my skin can be problematic and dry when I use harsh products on it. On pre-baby make-up days, I use serum, moisturiser, SPF50, primer and a lightweight tinted base. My brown eye pencil on top and bottom, black mascara and tinted lip balm are staples. I add a slick of liquid eyeliner for parties. The concealer comes out as needed and I'll sweep on highlighter, blusher and bronzer for special occasions. My fringe covers my brows so I can be inconsistent with their care but every now and then I do treat them to a spruce-up with a comb and gel.  
Wearing make-up makes me feel polished and together – This is making me look forward to wearing makeup again!  
Eyeko: What is your go to eye look when you want to feel limitless? 
Sidonie: Kohl, liquid eyeliner and lashings of mascara  
Eyeko: Do you have a question you would like to ask our next In My Eyes interviewee?  
Sidonie: What's your proudest fancy dress make-up look?  
Thanks Sidonie!  
 Check out Papersmiths full range at UK Stationery Shop | Notebooks, Diaries, Journals & More | Papersmiths