The eyebrows are having their moment in the makeup world. While the attention used to fall on a sculpted contour or a perfectly lined wing, for many, a good set of brows are now the star of the show. It makes sense then that as a result, the assortment of brow products is expanding and improving. Enter: the eyebrow gel. How to use eyebrow gel is relatively quick and easy, and instantly seals the hairs into a lifted, groomed shape. It's no wonder then that this product is the new must-have for the perfect set. So let's take a look in more detail.
Here's everything you need to know about how to use eyebrow gel.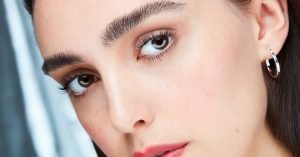 The different ways how to use eyebrow gel
Eyebrow gel can be a versatile tool. There are three main ways how you can use it.
Comb troublesome hairs into place
Create an entirely new style for your brows
As a conditioning treatment*
*Eyeko's gels contain ginkgo Biloba, Keratin, and Proteins to leave eyebrows feeling nourished and healthier.
As well as this, the various ways how to use an eyebrow gel vary depending on whether or not the formula has a tint. For those looking to darken their brows, a tinted eyebrow gel can add instant colour and definition. Meanwhile, a clear brow gel can help to disperse any pencil fill-ins throughout the brow for a more natural finish.
A more alternative way how to use eyebrow gel, however, is to tidy up your spillages. We've all been in that situation where our mascara wand ventures past the lashes, causing an array of black dots on our eyelid. A clear brow gel can be the perfect, unsuspecting solution to this. Simply wait for the smudge to dry and swipe the clear gel across to seamlessly lift the mascara residue from the lid.