Find The Perfect Eyeliner
Eyeliner has been in existence for 12 thousand years since Ancient Egyptians used eyeliner as a way to define their eyes. It is applied through contouring the eyelid area. As a staple in the majority of makeup bags, we're here to help you find the perfect eyeliner. To do this successfully, it's important to identify what brush, colour and wing you're after. Here at Eyeko, we offer precision tips that are designed to stay close to your lash line, along with intense-black eyeliners that create the ultimate eye catching drama.
So how can we help you find the perfect eyeliner? Keep reading to learn about our eyeliner options which are vegan friendly.
Black Magic Liquid Eyeliner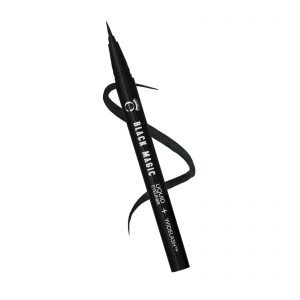 Our Black Magic Liquid Eyeliner, a best seller, is a traditional Japanese-calligraphy inspired eyeliner. It's soft precision brush tip lets you draw effortless eyeliner in one single fluid stroke. Once more, it's long-lasting carbon-black finish will make your eyes dramat-eyes like never before! Perfect for new beginners and experienced liner lovers, get magical with the power of Black Magic.
Skinny Liquid Eyeliner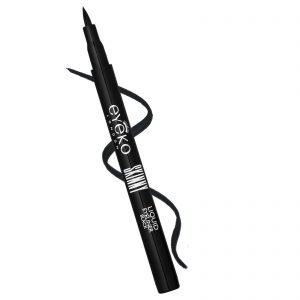 Skinny Liquid Eyeliner is great for beginners. Easy-to-apply, it's liquid precision pen lets you create thin feline flicks to accentuate your eyes. A unique long-lasting formula, gratify your eyes with it's colour intensity, smudge proof finish and algae extract infused ingredient.
Eye Do Eyeliner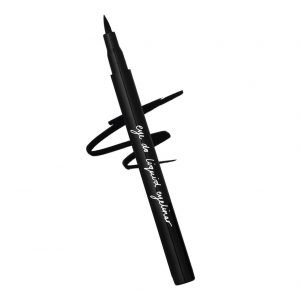 Say yes to our Eye Do Eyeliner. This eyeliner's brush is the perfect shape and size to draw the ultimate cat eye. Complete with conditioning Pro-Vitamin B5, even if you're a liner novice learn to be the best at winged eyeliner with it's long lasting and fade proof formula.
Fat Liquid Eyeliner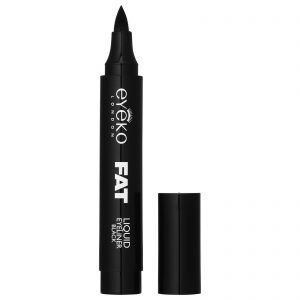 The clue's in the name! Make bold statements with our Fat Liquid Eyeliner. A chunky shaped pen, it's easy-to-handle precision tip lets thicker liner look easy. Combined with a carbon-black finish, glide on it's Laminaria Ochroleuca Extract formula across your peepers to achieve instant definition.
Sport Waterproof Eyeliner
The name of the game… our Sport Waterproof Eyeliner. A non-liquid eyeliner, it's multiple purpose pencil with a built in sharpener is perfect for creating smokey eyes. A great choice for beginners, set your eyes on the prize using this eyeliner's pitch black formula.
Mascara and Eyeliner Tutorials
Graphic eyeliner... the creative trend that encourages us to draw more than a normal winged eyeliner. Featured in the likes of fashion shows and famous celebs, it's no surprise the bold beauty statement takes a steady hand to create. With the party season now fast approaching you may be wondering how to spruce up your makeup look. Here at Eyeko, we've come up with four different graphic eyeliner techniques to make your eyes mesmer-eyes this season!