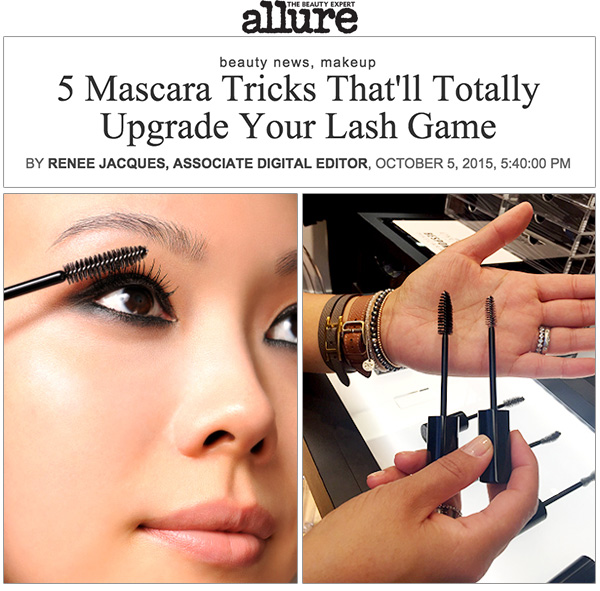 "For most us, the way we apply mascara is a well-established routine. We do it pretty much every day: mouth inadvertently open, a bunch of swipes on each eye, and that's it. But do you ever find yourself wondering if you're doing it correctly? Have you questioned how long you should be curling your lashes? Nina Leykind, the cofounder of Eyeko, a British makeup company that specializes in mascara (and eyeliner and shadow), let us in on her must-know mascara tips.
1. Not all mascara wands are one-size-fits-all. If you have a smaller eye shape or monolids, you'll need to use a smaller wand in order to effectively reach all of your lashes. "The whole point of mascara is to make sure it gets to the root of your lashes," says Leykind. "If you have small eyes, you can still use volumizing brushes that have a big, dense shape; just seek out companies that make downsized versions designed to reach smaller eyes." While creating a customized mascara for me (Allure editor perks!), Leykind showed me two different wand options to fit my eyes. Both of the brushes below will produce the same volumizing effect, but the smaller one works better for more compact eyes.
2. Don't move the wand back and forth. "If you zigzag your wand, you're going to make your lashes zigzag as well," says Leykind. "Instead, wiggle the wand a little at the roots and then pull it straight through your lashes." The wiggling effect will help create separation and the illusion of fullness.
3. Curl your lashes for a solid ten seconds. Your lashes are fragile, so only curl them once, and make it count by holding the curler on them for a good ten seconds. "You always want to think about maintaining your lashes, since they're so delicate. Curl with purpose," says Leykind.
4. Use your brush to get more curl if you need it. If that one squeeze with your curler isn't cutting it, you can use your mascara brush to give your lashes more oomph. "Simply roll the brush as you move it through your lashes if you find that you want more curl," says Leykind.
5. Apply your mascara in phases. Ever feel like you don't have time to make sure you're perfectly wiggling your mascara wand through your roots? Yeah, us, too. That's why Leykind suggests putting your mascara on in phases throughout the day when you find the time. "Instead of rushing my coats of mascara in the morning, I put a light coat on at first, and then I'll add a light coat on my way to work, and then I'll put on one more coat sitting at my desk," she says. There's nothing wrong with checking on your mascara to make sure it's as fresh as possible. It's called dedication to your look."
Read the full article here.
Email bespokeUS@eyeko.com for Saks Fifth Avenue NYC appointments.