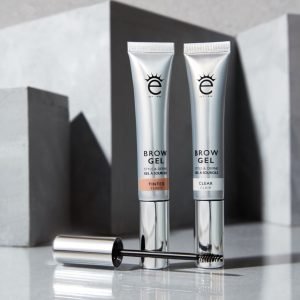 One of the easiest ways to give your face a groom and tidy look, is by simply combing your brows, regardless of whether you apply a full face of makeup or prefer a more natural look.
Unkempt brows may seem like a small problem, but they do have a massive effect on how tidy and put together our faces look.
One simple swipe of a brow gel can instantly make your whole face look groomed and lifted, and they are a very straight forward product to use. It's almost impossible to apply brow gels incorrectly, but there are however, different ways to use them for a variety of looks. So with this in mind, here is your guide to using Brow Gels.
3 EASY LOOKS WITH EYEKO'S CLEAR BROW GEL
Starting with our universal formula, Eyeko's Clear Brow Gel is as straight forward but as effective as you can get. This universal clear gel can be used on every brow colour, skin colour and brow type, with not flakey residue visible. It has a  micro brush, which gives you lots of control, allowing you to grab even the tiniest of brow hairs.
THE BASIC BROW GROOM
For a basic brow groom, start at the inner corner and then lightly comb these hairs either upwards for a slightly fluffy look, or for something more classic, comb outwards. As you comb through the brow, follow the natural direction of the brows. Once the brows are lightly coated and in position, you can leave to set for a few seconds and your brows will be held in place for 24 hours.
LAMINATED LOOK
For a more laminated look, using the Clear Brow Gel, rub the brush backwards and forwards through the brows. Then using your fingers, swipe across your brows so that the hairs are lying flat against the skin. In this instance the brow gel is acting like a skin friendly glue, adhering your brows to your skin.
A FEATHERED FLUFFY BROW
To create a brow look with more texture, apply Clear Brow Gel but instead of combing across the brows in the direction of your natural growth, you need to brush them upwards. You may find that your natural brows will be tempted to fall back into their default position, so with this in mind, start by ensuring the brows are heavily coated with product. Allow the product to dry for a few seconds and then start combing upwards. You can adapt this slightly by keeping the inner/top section of the brows brushed up and then allowing the tail of the brow to follow a more natural direction downwards, or alternatively, you can brush the tail upwards for a very modern, lifted look.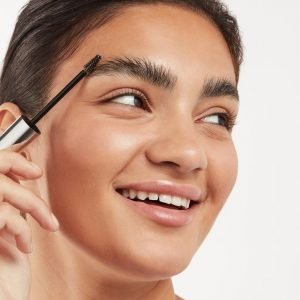 The beauty of Eyeko's Clear Brow Gel is you can be very playful due to transparency of the formula. Many makeup artists get very technical when it comes to brows, almost taking the brush, and really ensuring each hair is in the place it needs to be.  After styling your brows with Clear Brow Gel, you may notice, some sparse areas, and if this is the case, it's fine to go in with a pencil or pen to fill in any gaps.
TINTED BROW GEL
Tinted Brow Gel is an Eyeko classic, and a bestselling formula for many years. This formula is rich in botanical ingredients, including Keratin, Gingko Biloba and Garcinia Mangostana Fruit extract, all of which will help nourish your brows.
This formula will groom and set brows in place with a flexible hold, but more importantly, it will give brows a soft tint thanks to the transparent colour formula.
For a very natural look, Tinted Brow Gel is best for those will light brown to dark black hair. Those with light or grey hair, can absolutely use this formula, but it will give your brows a brown look, perfect if you normally get your brows tinted, but if you want to keep to your natural brow colour this may be a little too deep for you.
SOFT TINTED BROWS
Start by applying Tinted Brow Gel in the middle of the brows, close to the arch – as this is where you want most of the product, so your get depth to your brows. Then comb through to the tail of the brow, to tidy and set the hairs. The colour is super transparent, but if any formula goes on your skin, it's easy to wipe away with your finger or cotton Q-Tip.  When it comes to the inner corner, closest to the bridge of the nose, you need to apply any product here very lightly, so we're not closing the eyes together.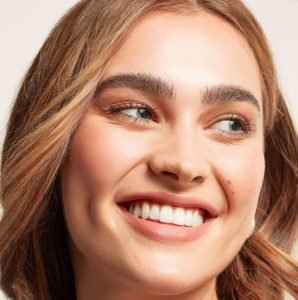 SCULPTED AND DEFINED BROWS
If you love a strong brow look, then the Tinted Brow Gel is a great formula to team with your brow pencils or pens. Start by applying your pencil/pen to fill in any gaps and to give the brows shape. Next use the Tinted Brow Gel is groom and set your brows into place. The Gel will give your brows an extra tint of colour and definition.