Get the Wide-Eyed Beauty look
What's the first thing you do when you wake up? Is it have a glass of water? Jump straight in the shower? Or make yourself a good cup of coffee? For us… it's mascara! Whether you're mad about mascara or love making yourself that first morning cup of coffee, we have something eye-mazing to share with you!
Say hey to our range… Wide Eyed Beauty! Featuring our current caffeine-infused Lash Alert Mascara and BRAND NEW Eyelash Curlers, combine your favourite morning essentials together to give your lashes the wake up call they need!

Lash Alert Mascara
Mascara for girls on the go!
Infused with caffeine and a double dose of fibres, our Lash Alert Mascara is the ultimate! A botanical-fuelled formula, it's lengthening brush lifts even the sleepiest of 'bed lashes' for definition and volume. What's more, our Lash Alert Mascara comes packaged in Eyeko's signature lightweight squeezy tube, which means zero-product waste and ensures your mascara won't dry out!
Eyelash Curlers
Achieve maximum curl with our BRAND NEW Eyelash Curlers.
Including a plumped cushion for extra comfort, expect the perfect wide-eyed look without damaging your lashes. The contoured curler hugs the shape of the eye perfectly whilst allowing for precise positioning to ensure every lash is captured and curled for everyday wear. What's more, the cushioned silicone pad ensures effortless application to give your eyes the ultimate morning boost they need!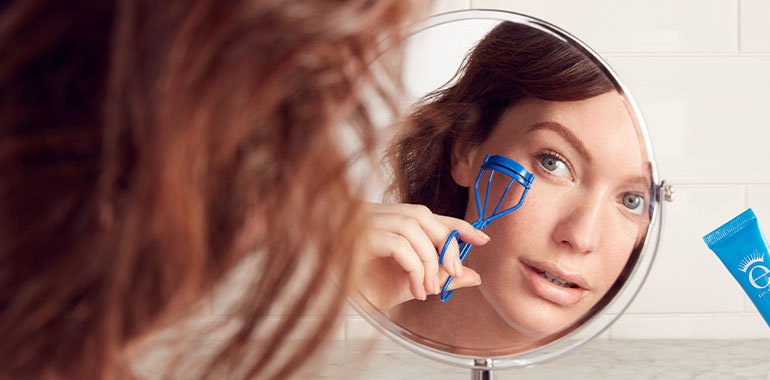 How to use:
To begin, gently place our Eyelash Curlers cushioned silicone pad close to your upper lash line, positioning where it feels most comfortable.
Next, slowly squeeze our contouring curler to start application and let us do the hard work for you!
Hold for 5 seconds and repeat on the other eye. Once completed, slowly remove the Eyelash Curlers from your upper lash line to see the results.
After this, place our Lash Alert Mascara onto your upper lash line and move the brush upwards for maximum curl.
Repeat this process until you're happy with the final results.
Last of all, reposition our Lash Alert Mascara onto your lower lash line and move the brush downwards to catch even the shortest of lashes.
Repeat this process again until you're happy with the final results.
Go one step further and make minis your thing with our Travel-size Lash Alert Mascara! The perfect pocket product for touch ups on-the-go! Click here to buy now