When it comes to eyebrows, the styles and trends are endless but one timeless look that works well on its own or as the base for another style? Natural looking brows.
Whether you prefer a bold, glam eyebrow style, the unbudgeable laminated brow or err on the side of the more-natural, fluffy brow look, eyebrows are totally personal and the best base is a groomed, natural brow. Enter the Brow Grooming Kit. Launched as part of our new brow line up, this grooming kit includes the essentials and is part of an eyebrow all-star line up, including a Brow Gel and a highlighter pencil.  
The new line up includes:
Brow Grooming Kit: 

Including all the eyebrow grooming essentials, this kit is housed in a reusable drawer box and comes with a carry pouch for on-the-go touch-ups. The perfect kit to ensure your eyebrows are in their best shape, this kit includes: brow spoolie & angled brush, scissors, tweezers and an eyebrow blade. 

 

Clear Brow Gel:

A nourishing, clear brow gel that sets brows in place for 24-hour wear, leaving you with a laminated brow look – without the need to visit a salon. An extension to our fan-favourite tinted Brow Gel, this clear version provides instant definition to lock your brows into place. 

 

Spotlight Highlighter Pencil: 

Use under the brow line and along the arch to give an illuminated, lifted look. Formulated with jojoba oil, this versatile highlighter can also be used in the inner corners of your eyes to brighten. Easy to blend, this highlighter won't budge for eight hours.

 
Want to get started on your natural looking eyebrows? All you need is our Brow Grooming Kit. Though, our Spotlight Highlighter Pencil and Clear Brow Gel will help lift your eyebrows and set them in place.  
Even if you end up opting for a bolder eyebrow look, groomed brows will make your daily eyebrow routine easier and more seamless since you'll be working with a fresh base. Ready to get started? 
How to create natural looking brows: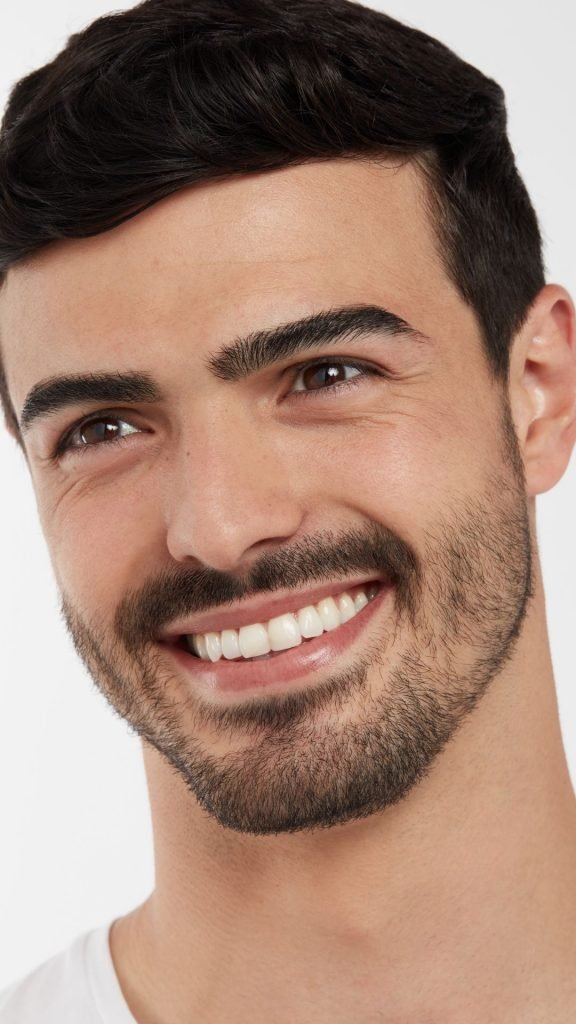 1. Using the comb, groom brow hairs into a shape you desire, observing if there are any hairs that are too long. If you have any long brow hairs, take the scissors, and press against the skin above the brow to give stability before lightly trimming the lengths.  
 2. Next use tweezers to remove any stray hairs in the middle of the brows and above the bridge of the nose. Then, concentrating only on the underneath sections, tweeze away any stray hairs from beneath the brows. Make sure you do not remove any hairs that will disrupt your natural brow curve and shape.  
 3. If you have any gaps in the brow, use the angled brush with your favourite brow product to lightly fill in the brows with light, hair-like strokes.  
 4. Pressing the brow blade against the skin, lightly move along to remove any stray hairs above and to the sides of the brows for a clean, sharp look. 
 5. From here, you can build on your groomed brow for a laminated or fluffy brow look – or keep it au naturel. It's completely up to you!