We've partnered with Rockins, the newly launched brand of 1920's inspired bias cut scarves, and classic handkerchiefs with a modern yet quintessentially British edge.
Rockins for Eyeko was born of a meeting of minds, when Tim Rockins, a London based artist, illustrator, musician and DJ, created a monochrome design, paying homage to both the 'Alexa' eye and Eyeko shield; Eyeko's global trademarks.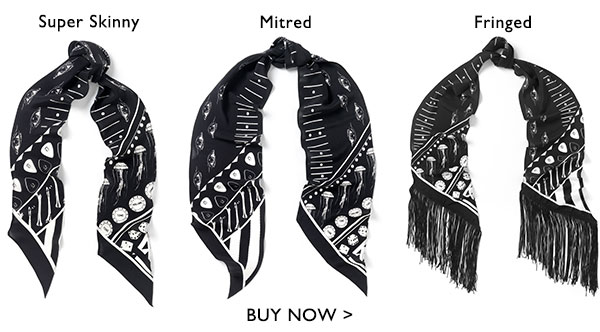 "Both Jess and I share a love for iconic 60's and 70's aesthetics and beatnik pin-ups like Francoise Hardy, Anna Karina, Anita Pallenberg and Marianne Faithful. Jess shared her new scarf collection Rockins with us which features eyes, frets, guitar picks – all so emblematic of our mutual brands! It was a natural fit. Like Rock and Roll! Tim was then inspired to sketch our own icon Alexa Chung's eyes to create a limited edition Rockins for Eyeko silk scarf. We are all delighted with the result!"
Nina Leykind, Eyeko
"We are delighted to be collaborating with Eyeko on a limited edition scarf. Throwing on a silk skinny scarf adds a touch of rock n roll luxe to any look, much the same as a great pair of original vintage jeans and a smudged line of black kohl around your eyes – Ready to Rock – at any occasion, from a gig, to a party, to a red carpet event…."
Jess Morris, Rockins
These hand crafted, artisanal silk scarves, launching in three styles – Super Skinny – the rock n roll alternative to a tie as seen on Steve Tyler, Jamie Hince, Harry Styles, Nick Grimshaw and Sean Pertwee, Mitred – a long bias cut design as seen on Kate Moss and Alison Mosshart and Fringed – the mitred design but with fringe added, extra-long for a touch of glamour as seen on Rita Ora and Karen Elson.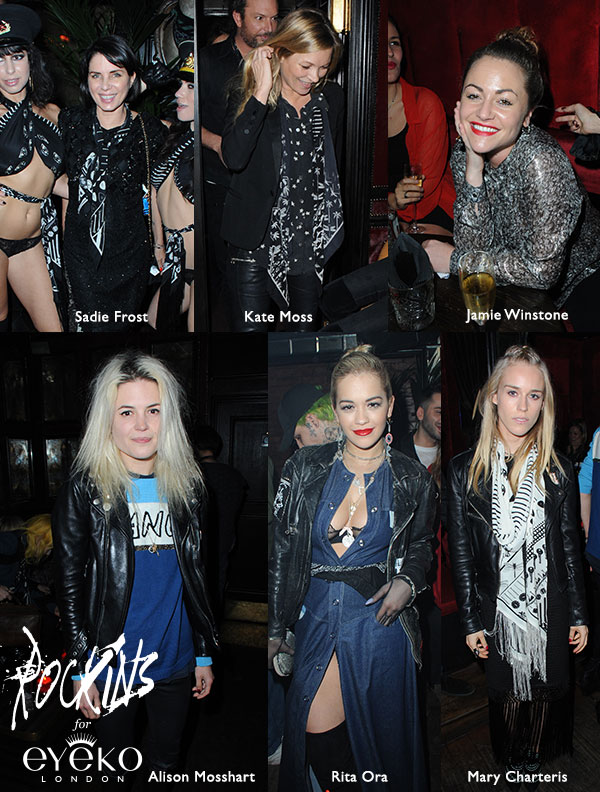 The launch party at legendary club The Scotch St James – famous for being the site of many rock n roll firsts from hosting Jimi Hendrix to The Rolling Stones – made the perfect locale for present day rockers The Kills, where both Alison Mosshart and Jamie Hince were sporting Rockins scarves and whilst Jamie took to the decks super model wife Kate Moss caught up with pop chanteuse Rita Ora. Both styled the skinny scarves in their own inimitable ways along with Jamie Winstone, Sadie Frost, Mary Charteris and of course muse Alexa Chung.